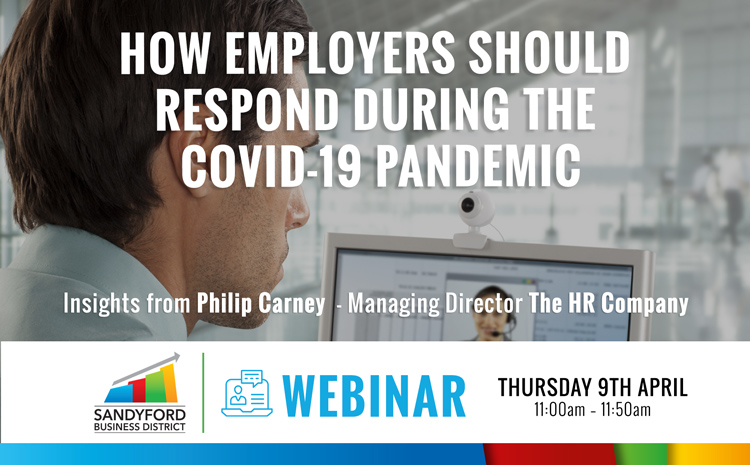 HOW EMPLOYERS SHOULD RESPOND DURING THE COVID-19 PANDEMIC WEBINAR
When: Thursday, April 9, 2020
---
Sandyford Business District invites you to a fully interactive Webinar on Thursday April 9th at 11:00am. Join Philip Carney, Managing Director of The HR Company for our essential webinar where we will explore "How employers should respond during the Covid-19 pandemic".
To join please see link below.
At Sandyford Business District we recognise that business owners need to develop a road map for the current crisis and we recognise that many are facing unprecedented challenges.
This webinar offers an opportunity and an information point to address your key questions and explore the issues that you face in this current climate.
What if I have an outbreak at the work place? What are my obligations?
What are my obligations under GDPR during the crisis?
When and how to deal with layoffs
The redundancy process
How can I deal with current investigations and disciplinary issues?
Emergency staff: what do I do if they refuse to come to work?
How do I deal with contracts issued to new employees with start dates into the future?
Join from a PC, Mac, iPad, iPhone or Android device
Click here to register: https://zoom.us/webinar/register/WN_WiGNez-qRAy8-Rv-e6D2lQ

To submit questions in advance please forward to conor.battigan@sandyford.ie.

We look forward to you joining us on Thursday.