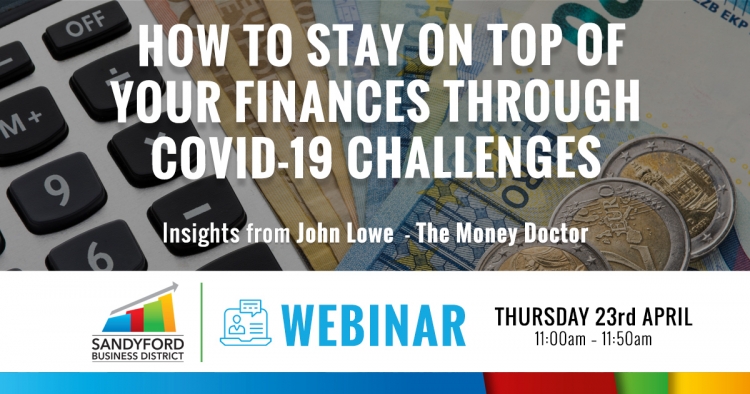 How To Stay On Top Of Your Finances Through Covid-19 Challenges Webinar
When: Thursday, April 23, 2020
---
Sandyford Business District invites you to an interactive Webinar on Thursday 23rd April at 11:00am – 11:50am
'Surviving Covid -19 – Simple Steps to Transform your Finances'
John Lowe The Money Doctor will cover insights including; what to do and what not to do financially, top tips, fact sheets and templates for the coming weeks and months.
John Lowe, a Qualified Financial Adviser and Fellow of the Institute of Bankers, is probably best known for his popular books on personal finance, 'The Money Doctor', '50 Ways to Wealth', 'The Money Doctors annuals' ( 2020 edition published by O'Brien Press – number one bestsellers ) and a weekly columnist for both the Irish Daily Star (Thursdays) and www.RTE.ie/Lifestyle (Tuesdays)
At Sandyford Business District, we recognise that individuals need to develop a road map for the current crisis and we understand that many are facing unprecedented challenges.
This webinar offers an opportunity and an information point to address your key questions and explore the issues that you may face in this current climate.
Click here to register for the webinar: https://zoom.us/webinar/register/WN_13SEtmioQYmYikAQUm5CFw