Financing Your Business Through Covid-19 Challenges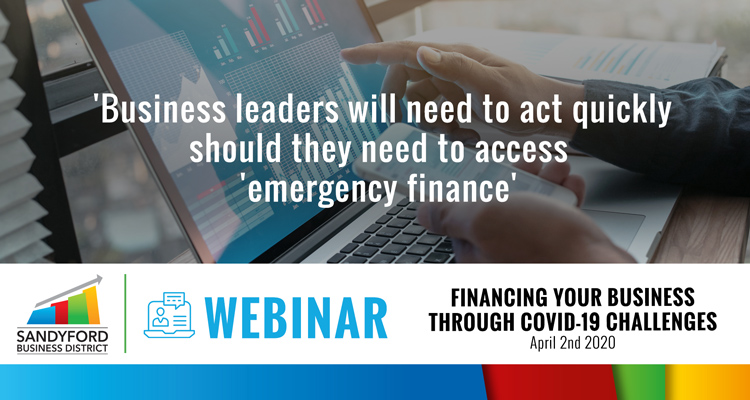 Many thanks to Michael McGivern and Con Casey of Smith & Williamson who joined us on the 2nd of April as part of our 'Financing your business through Covid-19 challenges' webinar. In this webinar we discussed the challenges that Covid-19 has placed on businesses and ways to help adjust during these strange times.
The following topics were covered;
Making an application
Temporary Wage Subsidy Scheme
Knowing the level of finance you need
Navigating the options
Finance Options
Know what you need and when
Forecast: 12 week rolling cash flow forecast updated on a weekly basis.
- Payments; Include salaries, bank loan capital and interest, VAT and Corporation Tax, Rent, Rates, Insurance, Utilities and Trade creditors.
- Income: Prioritise work where your customers can pay.
- Billing: Focus (even more than normal) on keeping billing up to date.
- Collection: While you want to be extra supportive of your customers, it is crucial that extra effort is put into collecting outstanding debts.
Manage Costs
Make decisions early! Look at areas where cost savings can be made.
Defer payment to creditors? Approach your key creditors looking for support of payment deferral e.g. rents and leases
Non-core staff: Consider taking advantage of the Governments Temporary Wage Supplement Scheme. This may be most appropriate for front of house, administration or support roles.
Pay: Consider if pay cuts are required perhaps graduating these adjustments according to earnings or grade.
Variable costs? Many costs will be fixed, at least in the short term, so review your variable costs.
Government Supports: Many costs have been deferred by the government including rates.
Temporary Wage Subsidy Scheme
TWSS provides for temporary wage subsidy ("TWS") where:
- The business is adversely affected by Covid-19 to a significant extent with the result that the employer is unable to pay to "a specified employee" the wages/salaries the employer would otherwise have normally paid to the specified employee,
- The employer has firm intention of continuing to employ the specific employee (and to pay the employees wages/salary) and is making best efforts to pay to the employee some of the employee's normal wages/salary, and
- The employer has satisfied the following conditions;
- The employer has logged on to Revenues ROS system in the MyEnquiries field using the employer's tax reference number
- Having read the declaration referred to in ROS as the "Covid-19:Temporary Wage Subsidy Scheme" declaration, The employer has submitted that declaration to Revenue through ROS, and
- The employer has provided details of the employer's bank account on ROS in the "Manage bank accounts" and "Manage EFT" fields.
Legislation - The business is adversely affected where, in accordance with guidelines published with Revenue, employer demonstrates that, by reason of Covid-19 and the disruption that is being caused thereby to commerce, there will occur in the period of 14 March 2020 to 30 June 2020 at least a 25% reduction either;
- in the businesses turnover or
- in customer orders being received
Further technical issues in legislation:
- The amount of TWS to be determined by the Minster of Finance, with consent of Minister for Employment Affairs and Social Protection, with the concurrence of Minister for Public Expenditure and Reform.
- Legislation allows for different amounts of TWS for different classes of employee
- Where the net week wages/salary that would otherwise have been payable to specified employee is not more that €586 per week - amount of TWS to be capped to 70% of the otherwise arising net weekly wages/salary (€410)
- Where the net weekly wages/salary that would otherwise have been payable to the specified employee is greater than €568 per week but not more than €960 per week - the above 70% rule applies, but TWS payments are capped at €350 per week
- No TWS arises where the net weekly wages/salary of a specified employee is in excess of €960 per week.
Credit Application
There will be a significant increase in inquiries to banks and there is a likelihood that is will bring huge pressure on resources.
Know how to present an application;
- Up to date financial information and projects
- Format of structure
- Structure of information
- Business plan
Other Revenue related issues to be aware of
Tax Returns - businesses experiencing temporary cash flow difficulties should continue to file tax returns on time.
Application of Interest - the application of interest on late payments is suspended for January/February VAT, and for both February and March PAYE (Employers) liabilities for SMEs.
Debt Enforcement - all debt enforcement activity is suspended until further notice
Tax Clearance - current tax clearance status will remain in place for all businesses over the coming months
Businesses (other than SMEs) experiencing temporary cash flow or trading difficulties should contact Collector General or LCD or MED.
Repayments/Refunds - Revenue to prioritise the approval and processing of repayments/refunds.
PSWT Interim Refunds - Revenue will accept refund claims (via MyEnquiries) where legible copies of original F45s and F50s attached - a written letter from an accountable person may also suffice in in certain cases.
R&D tax credits - early payment of 2020 installments of excess R&D tax credits in certain circumstances. CT1 for period ending in 2019 must be submitted at time of the refund request.
Compliance Interventions - suspension of audit and other compliance intervention activity on taxpayers' premises until further notice. Attempt to finalise open interventions through ROS or telephone.
VRT registration and export appointments - VRT registration and expert appointments in NCT centers are cancelled w.e.f. 28 March 2020 until further notice.


Resources
Revenue Links:
- Revenues approach to monitoring TWSS - click here.
- Revenues Frequently Asked Questions - click here.