Sandyford Business District rolls out a series of online webinars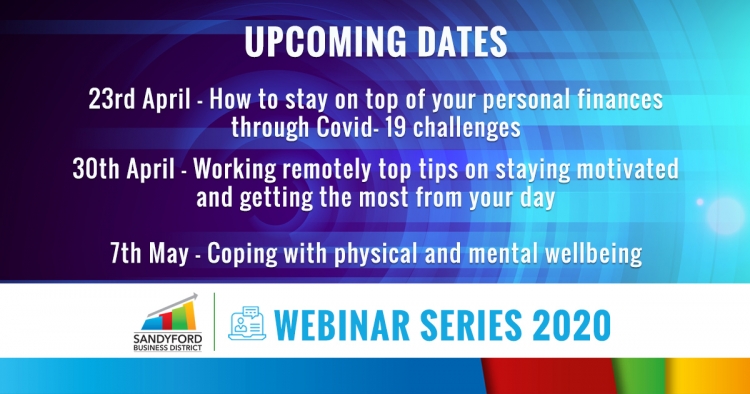 Topics range from financial planning, health and wellness to remote working.
Sandyford Business District, the largest business improvement district in Ireland, has launched a series of online webinars to help their members adjust to business during the Covid-19 pandemic. Faced with cancelling a number of planned events, Sandyford Business District will instead offer a number of free online programmes ranging from financial planning, health and wellness to remote working. These are a series of fifty minute webinars, which began on April 2 with accountancy and tax experts, Smith and Williamson advising members on financing business through Covid-19 challenges. Sandyford Business District recognises the need to develop a road map for the current crisis and is bringing cutting-edge advice to businesses to help manage these unprecedented times. The webinars will be broadcast through Zoom; an online platform and all events are complimentary to attend.
Speaking of the temporary move to online, CEO of Sandyford Business District, Conor Battigan said "We were conscious that we should not lose momentum in our learning activities and recognising the current lockdown situation, Sandyford Business District decided to bring solutions directly into the home offices of its members. Our initial plan is to keep the District connected through online learning events covering a wide range of topics."
"With the demands of social distancing measures and self-isolation we felt that it was important for us to create a connected smart space for our businesses. Although face-to-face meeting and events are not currently taking place, Sandyford Business District is still here to help members stay well-informed and up-to-speed" Mr Battigan concluded.